The main goals of this site are to help showcase and foster more Business and Economic Development in Towns in the Southside Area.
There are many Businesses ,VK Partners, Events, Local Activities, Feature Sections, Information, Resources, Videos Etc. to see.
Updates and Additions ongoing.

So if you live here, your visiting or maybe looking to relocate and invest in the SOVA Area, you have found a great
Infotaining Full Mutimedia source to enjoy and work with. WELCOME AS THE VK SITE NOW GROWS TO SERVE
THE WHOLE SOVA REGION AND AT SOVA GATEWAY
enbridge.com/CREWE/RAILMUSEUM.htm">
VISIT AND MEET SOME OF THE VOLUNTEERS THAT HAVE
HELPED MADE THIS A PREMIER DESTINATION
CENTER IN SOUTHSIDE VIRGINIA AND THE COUNTRY

Click the Victoria Kenbridge Banner at top of
any page to go to the Home Page


CLICK TO HEAR A PROMO AND LEARN
HOW VICTORIA KENBRIDGE WILL HELP YOU !!!



COME WALK THROUGH SOME OF THE BUSINESS
AND PROMOTE YOURS HERE
ITS AS SIMPLE AS ABC IT PAYS TO RECYCLE
A FEW FEATURE BUSINESS ,EVENTS ,FUN VIDEOS
A little visit trough Twiggs and Berries with Marianne

ABC RECYCLE Largest Catalytic Convert Processor in North America

Old Glory Ice Cream on
9th Street in Victoria

LITTLE MEXICO
in Kenbridge


Impromptu interview with Thornton Cline from Nashville and good friend of VK Director

A front row view of the 2013 Victoria Kenbridge Christmas Parade. Ride along with the Racing Shriners
COME CHECK OUT THE NEW LITTLE MEXICO IN KENBRIDGE
LARGEST SELECTION PRODUCE, MEX, HISPANIC PREPARED AND FRESH FOODS AND FROZEN. ALL ITEMS FOR SU CASA AND OH AND JUST A FEW FEW BOOTS
HERE IS A VIRTUAL WALK DOWN MAIN STREET IN VICTORIA AN
KENBRIDGE SEE DETAIL IN THE STREET GUIDE SECTION ABOVE


Delicious just right down the road in
South Hill and now in Emporia
Say Hello to Tom Alex and Sharon and Gang
A great place to quench your
thirst and fill your belly etc.


CLICK ABOVE TO FIND OUT MORE ABOUT ONE OF THE FINEST PRIVATE AND ONLY K- 12 SCHOOLS IN THE SOUTHSIDE AREA
KENSTON FOREST

CHECK OUT BRAND NEW WEBSITE




SAY HELLO TO NEW HEADMASTER PAUL ZANOWSKI
"MR. Z" WHO HAS BEEN PASSED THE TORCH FROM
JOHN COLBY,A MAN I CAME TO KNOW THAT IN MY THOUGHTS DID WONDERFUL THING TO DEVELOP THE KAVILIER TRADITION. CONSIDER BECAUSE OF A NEED TO COMMUTE JOHN WAS NEVER TO BE IN BLACKSTONE FULL TIME AND FROM WHAT I SAW HE DID MORE THEN MANY OTHERS THAT ARE ONE MILE AWAY. IT WAS HIS WIDE OUTSIDE EXPERIENCE THAT GAVE HIM AN INSIGHT AND INSPIRED GREAT AND GREATER
LISTEN BELOW AND TAKE MAGICAL OZ TOUR WITH US
CLICK TO SEE RACE DAY BELOW AND OTHER SNIPPETS FROM AUTUMN DAYS 2014
OVER 400 AND MORE ALL THE TIME
THE MAIN MAN KNOWS THE YOU TUBE CHANNEL ROCKS !
WONDERFUL NEWS THE TOWN OF VICTORIA AND KENBRIDGE LIBRARIES ARE PRIVATELY OWNED WHICH OFFERS NUMEROUS POSITIVES. THE WEBSITE DOESN'T HAVE ANYTHING ON THERE AS OF YET EXCEPT HOURS PHONE EMAIL AND AN ELDRIDGE BAGLEY PICTURE

SO WE ARE REPOSTING THE ONLY TOURS OFF EACH BRANCH. THESE WERE TOTALLY UNEDITED AS IS 80 % OF QUICK VIDS DONE VERY ORGANIC, AUTHENTIC, ROUGH, WHICH SEEM DRAW THE ATTENTION OF THE MANY BOTS AND SPIDERS OUT IN CYBERLAND WITH GOOGLE,YAHOO,BING ETC
BING VIDEOS WITH VICTORIA KENBRIDGE AS TERMS
ENJOY
CLICK PIC TO JOIN THE TOUR

RIP ROBERTA I AM GRATEFUL AND IT WAS WONDERFUL
KNOWING YOU THE SHORT TIME I DID
PARTNERS INVOLVED WITH PROJECTS AND DEVELOPMENT WILL BE FEATURED BELOW
STRATCOM IS BRINGING THE NOTTOWAY LUNENBURG AND OTHER REGIONS SOON WHITE SPACE WI-FI TO MANY AREAS THAT HAVE NOT BEEN ABLE TO GET AND NEED HIGH SPEED BROADBAND.


WE WILL ALSO BE WORKING TO PROVIDE WEB NETWORK PROGRAMMING AND SPECIALIZED SERVICES FOR LARGER COMMERCIAL AND MILITARY OPERATIONS.
WE WILL BE IMPLEMENTING WISP SCADA SOLUTIONS FOR LOCAL AGRICULTURAL AND OTHER INDUSTRIES IN THE NEXT 6MOS
MOBILE MAIN STREET DEVELOPED AT WVU IS A DYNAMIC NEW PLATFORM FOR SMALL BUSINESS, SOCIAL GROUPS, ARTISANS, MUSICIANS, EATERIES TO SHOWCASE THERE PLACES AND PROMOTE AND MARKET ETC. REAL TIME. WE ARE EXCITED ABOUT WORKING WITH THE TEAM FROM UNIVERSITY OF WEST VIRGINIA AND DIRECTOR DANA COESTER ASSISTANT PROFESSOR IN MEDIA.
SEE MORE ABOUT DANA AND HER TEAM RECENTLY WINNING A MEDIA INNOVATION AWARD BY CLICKING MOBILE MAIN STREET BANNER
CLICK THE BANNERS ABOVE TO LEARN HOW YOU CAN BENEFIT IN WORKING WITH OUR NEW PARTNERS
THE LATEST FASTC UPDATES WILL BE FEATURED BELOW


GET READY TO GO TO WORK AS TWO OF THE LARGEST PROJECTS IN LUNENBURG AND NOTTOWAY COUNTY ARE COMING SOON
CLICK ABOVE TO SEE DETAIL ECONOMIC
STATS AND DEMOS ON SOUTHSIDE 8 COUNTY AREA
HOW IS YOUR COUNTY DOING ??
ONE OF THE LARGEST NATURAL GAS PIPELINE CONSTRUCTION PROJECTS IS COMING RIGHT THROUGH YOU BACK YARD THE
ATLANTIC COAST PIPELINE
BILLIONS OF DOLLARS JOBS AND NEW EXCITING
OPPORTUNITIES BETWEEN THESE TWO PROJECTS WILL BE GENERATED STAY ON THIS SITE FOR THE LATEST UPDATED AND INSIDE INFORMATION ON THE WAYS YOU WILL BENEFIT AND OPPORTUNITIES THAT HAVEN'T BEEN SEEN SINCE THE RAILWAYS IN 1900
LOCAL REGIONAL NEWS
We are very excited here at www.kineticconceptsnow.com to be a part of an upcoming major paradigm shift for marketing promoting and featuring small Cities, Rural Towns, Communities or Special Interest Groups
New Release and Your Chance to Join Mobile and get 4 G Speed
in the Desolate Boonies and be part of the SOVA Hyperlocal Wave coming in October Coming Soon !!!
FORT PICKETT SPARKS HOPE AND NEW LIFE INTO THE BATTERED
SOUTHSIDE REGION
Courtesy of Times Dispatch
This Site and the soon coming Blackstone Nottoway and SOVA Gateways will have more information on the above for current residents and business. The thousands of new people from all over the Country and the World that will be traveling as well moving to the Nottoway Lunenburg and Southside Region will find it especially informing entertain and offering many opportunities as well.
FASTC could very well change the area and bring an economic development, new growth opportunities, and benefits that have not been seen since the Railroads Boom.
VISIT MAYOR COLEBURN AND THE TOWN OF
BLACKSTONE ONLY MILES AWAY


THANKS TO ALL OF OUR PARTNERS
WHY DON'T YOU JOIN US CALL 434-298-8069
MORE ABOUT THE INGENIOUS AND CREATIVE YANKEE HERITAGE THAT ALLOWED HENRY H ROGERS TO NAME THE NEW TOWN AFTER A LADY HE GREATLY ADMIRED
QUEEN VICTORIA AND OF COURSE SAMUEL CLEMENS KNOW TO MOST IN HANNIBAL MISSOURI
AND THE UNIVERSE AS MARK TWAIN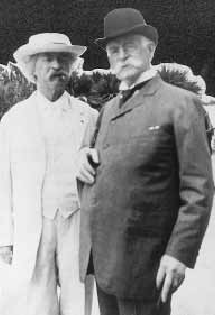 A look back at two reasons there is a Victoria
The Virginian Railway and
Henry Huddleston Rogers
Click above and Learn more about the Founder of VICTORIA
AFTER WALKING AROUND WITH ROBERTA WANDA TOOK HER
TURN AND IT WAS ALSO VERY INFORMATIVE ON THE INSIDE.